Interested in coaching for the New Jersey Colonials?
We are accepting applications for the 2021-22 season now!  Submit your credentials and resume via our online portal:
Executive Director, Boys - Bruce Shatel
Bruce Shatel teams are best known for their work ethic and discipline. Under his tenure, Delbarton has established themselves as one of the preeminent high school hockey teams in Northeast. They have won 11 State Championships, 8 Gordon Cups, 11 Gordon Conference titles, 3 Mennen Cups, and 3 Mennen Division titles. Most importantly, many of Shatel's players have committed to play at the next level at some of the finest colleges in the Northeast: Brown University, Boston College, Bowdoin College, Colby College, Connecticut College, Cornell University, Harvard University, Hobart College, Holy Cross, Middlebury College, Princeton University, Providence College, RPI, Tufts University, UVM, Williams College, and Yale University.
Shatel has taught mathematics at Delbarton School for 20 years. He serves on the Rules Committee and the Seeding Committee for the NJSIAA. Shatel has also been a coach and evaluator for USA hockey for the New England District. In 2014, Shatel was inducted into the New Jersey Ice Hockey Hall of Fame. In July 2017, the Star Ledger named him as one of the most influential people in New Jersey high school sports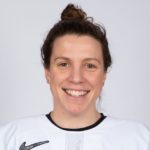 Executive Director, Girls - Shelly Picard
Shelly Picard grew up in Taunton MA, and played youth hockey with the MA Spitfires.  She went on to play high school hockey at Noble and Greenough School and college hockey at Harvard University.  In addition, she participated with the US National Team in 5 World Championships and earned a Silver Medal in the 2014 Olympic Games in Sochi, Russia.  She currently serves as the Deputy Commissioner for the National Women's Hockey League (NWHL) and has been the Director of Girls Hockey for the New Jersey Colonials since 2019.
Tier 2 Director, Boys - Brendon Herr
Brendon Herr has been coaching youth hockey for over 14 years. Outside of the New Jersey Colonials, Brendon is the Head Coach of the Chatham High School Varsity Team, which he has taken to back to back State Finals in 2018 and 2019. Brendon grew up playing for the Hershey Jr. Bears program and spent 3 years at Wyoming Seminary Preparatory School. Brendon enjoyed a successful 4 year Collegiate career at Lebanon Valley College (NCAA, Div. III). He finished his career in the top 20 in scoring in LVC history. In 2009, he returned to his alma mater as an assistant coach.
Click on Coach to navigate to team pages.