Celebration of Excellence #4 – George Charette Awards
Celebration of Excellence #4 – George Charette Awards
Matthews and Hoffmann earn outstanding graduating senior honors.
The "Charette Award," goes to an outstanding male and female graduating senior. George Charette was a founder of the Morris County Youth Hockey League and coached for the New Jersey Colonials for many years.  Tommy Matthews and Lexi Hoffmann are the 2019-20 George Charette Award Recipients.  The Colonials also recognize the outstanding efforts of our finalists for the Charette Award: Logan Hanek, Gavin Walsh and Molly Murtagh.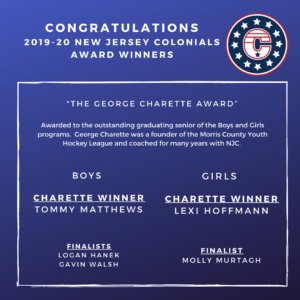 ---
CHARETTE AWARD
GIRLS:  Lexi Hoffmann – 19U Major
"Lexi has been a contributing member of this team for the past couple of seasons. It's no surprise that she will continue to pursue her hockey career and academic career at one of the top Division 3 programs in the country after having interest from a number of highly touted programs. Lexi is a dependable defenseman who is also able to control the whole ice with her poise, patience, and excellent skating. Beyond her exceptional skill, Lexi is also a competitor and shows up every game and practice ready to put all of her effort into every shift. Lexi always has a positive attitude and is a leader on this team, both on and off the ice. It's apparent to see how much respect her teammates have for her. Lexi isn't the most rambunctious or loudest member of our team, but her actions speak louder than any words. It's been an absolute pleasure working with Lexi and we know that she has a bright future ahead of her with the Elmira Soaring Eagles"  — 19U Major Coach, Shannon Paskaris
BOYS:  Tommy Matthews – 18U National
"Tommy has been our leading scorer all year.  He continually makes an effort to be there for the team even with HS hockey and school. He has been consistent for the group all year long and I have enjoyed having the chance to work with him." — 18U National Coach, Chase Watson
---
CHARETTE FINALISTS
Logan Hanek – 18U AA (Red)
"Great character with the talent of working hard.  Doesn't make much fuss on or off the ice, just lets his play speak for itself.  Stay humble and continue to have a great attitude. Keep going Logan Hanek."  — 18U Assistant Coach, Henrik Tallinder
Molly Murtagh – 19U Elite
"Molly has been a long time Colonial and it is my pleasure as a coached her the past 3 years on my teams.  Molly wears her heart on her sleeve and is a true leader.  19 Elite has relied on her in the locker room and on the ice. She has come such a long way in her skill, as well as the mental part of the game. I have seen her develop not only as a hockey player but as a young leader as well. She has continuously pushed through adversity, is highly accountable for her actions and uses every opportunity as a learning experience.  Molly embraces what every coach loves to see out of their players. So often our jobs are not so much about hockey put shaping young athletes into adults, and it is an honor to see what Molly will achieve moving forward."  — 19U Elite Coach, Dennis Crothers
Gavin Walsh – 18U AA (White)
"Gavin enjoyed a fine senior season with the Colonials as a steady defenseman able to contribute in both ends of the ice.  His high school team, Morris Knolls, repeated as Public A State Champions."
---
The Colonials wishes all of our 2019-20 graduating seniors much success and happiness as they embark on new adventures this Fall!