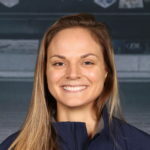 Director, Girls - Emily Janiga
Emily Janiga has an extensive hockey background as both a player and coach. Emily was a full scholarship NCAA Division I hockey player for Mercyhurst University where she served as captain during her Junior and Senior season. During her collegiate career, she scored 151 points (72 Goals, 79 Assists, attend 3 NCAA Final 8 tournaments and 2 NCAA Frozen Four tournaments. She wrapped up her career at Mercyhurst University by earning Female Athlete of the Year her senior year (2016). After graduating she played 6 years professionally in the NWHL, PHF, PWHPA, CWHL.
Recently retired, she now focuses on growing her career in coaching and developing the sport at the youth level. Her mission for the organization is to create a structured, competitive and professional environment for girls to develop and feel confident at the rink.